My Blog
Posts for tag: dental injury
By Elizabeth Dunkleberger DDS PC
February 07, 2019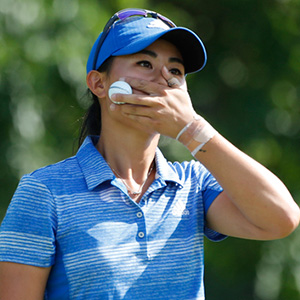 While the sport of golf may not look too dangerous from the sidelines, players know it can sometimes lead to mishaps. There are accidents involving golf carts and clubs, painful muscle and back injuries, and even the threat of lightning strikes on the greens. Yet it wasn't any of these things that caused professional golfer Danielle Kang's broken tooth on the opening day of the LPGA Singapore tournament.
"I was eating and it broke," explained Kang. "My dentist told me, I've chipped another one before, and he said, you don't break it at that moment. It's been broken and it just chips off." Fortunately, the winner of the 2017 Women's PGA championship got immediate dental treatment, and went right back on the course to play a solid round, shooting 68.
Kang's unlucky "chip shot" is far from a rare occurrence. In fact, chipped, fractured and broken teeth are among the most common dental injuries. The cause can be crunching too hard on a piece of ice or hard candy, a sudden accident or a blow to the face, or a tooth that's weakened by decay or repetitive stress from a habit like nail biting. Feeling a broken tooth in your mouth can cause surprise and worry—but luckily, dentists have many ways of restoring the tooth's appearance and function.
Exactly how a broken tooth is treated depends on how much of its structure is missing, and whether the soft tissue deep inside of it has been compromised. When a fracture exposes the tooth's soft pulp it can easily become infected, which may lead to serious problems. In this situation, a root canal or extraction will likely be needed. This involves carefully removing the infected pulp tissue and disinfecting and sealing the "canals" (hollow spaces inside the tooth) to prevent further infection. The tooth can then be restored, often with a crown (cap) to replace the entire visible part. A timely root canal procedure can often save a tooth that would otherwise need to be extracted (removed).
For less serious chips, dental veneers may be an option. Made of durable and lifelike porcelain, veneers are translucent shells that go over the front surfaces of teeth. They can cover minor to moderate chips and cracks, and even correct size and spacing irregularities and discoloration. Veneers can be custom-made in a dental laboratory from a model of your teeth, and are cemented to teeth for a long-lasting and natural-looking restoration.
Minor chips can often be remedied via dental bonding. Here, layers of tooth-colored resin are applied to the surfaces being restored. The resin is shaped to fill in the missing structure and hardened by a special light. While not as long-lasting as other restoration methods, bonding is a relatively simple and inexpensive technique that can often be completed in just one office visit.
If you have questions about restoring chipped teeth, please contact us or schedule an appointment for a consultation. You can learn more by reading the Dear Doctor magazine articles "Porcelain Veneers" and "Artistic Repair of Chipped Teeth With Composite Resin."
By Elizabeth Dunkleberger DDS PC
August 30, 2017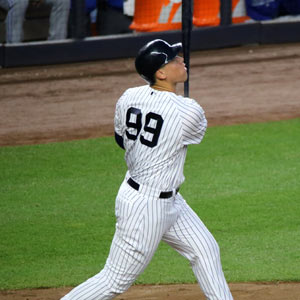 Major league baseball player Aaron Judge made news in July by breaking Joe DiMaggio's record for most home runs scored by a New York Yankees rookie. Then he made news again, this time for breaking something else. Following their game-winning home run against the Tampa Bay Rays in the 11th inning, the Yanks met for a spontaneous victory celebration at home plate. It was all fun and games… until an errant helmet accidentally slammed into Judge's mouth, breaking off half his left front tooth. Ouch!
Even if you're not playing big-league baseball, accidents sometimes happen. So what's the best dental treatment if you chip or break a tooth? It all depends on how much is broken off.
When a tooth has a small chip in it, dental bonding may be sufficient. Layering on tooth-colored bonding material results in a natural look, and it can be completed in one dental visit. However, bonding material in time will discolor, and it is not as strong as real tooth structure, so eventually it may need re-treatment.
Dental veneers or crowns may be used to restore more seriously damaged teeth. Veneers, thin porcelain shells that cover the front surface of teeth, can be used to restore minor to moderate chips. A crown ("cap") is used when the damage is greater and more structural support is required. A crown replaces the visible part of the tooth above the gum line.
When the soft pulp tissue inside the tooth is damaged, root canal treatment will be needed to save the tooth. Despite the outdated rumors some people have heard, root canal procedures don't cause pain — they actually relieve it. During the procedure, exposed or infected pulp is removed and the inside of the tooth is sealed. Then a lifelike crown is placed so the tooth looks as good as new.
If the tooth cannot be saved — for example, it breaks off below the gum line — a dental implant may be your best option. Dental implants are small titanium posts that are surgically inserted and then capped with an artificial crown. Implant-supported teeth can last a lifetime and are usually indistinguishable from natural teeth.
So what happened with Judge's tooth? Thanks to a Friday morning visit to the dentist, he was smiling again with a temporary crown — and smiling over the fact that his tooth garnered more attention than the Yankees' dramatic 11th inning win.
If you have questions about cosmetically-pleasing tooth restorations, please contact our office or schedule a consultation. (If you have a dental injury, call us immediately!) You can learn more in the Dear Doctor magazine articles "Dental Implants" and "A Step-by-Step Guide to Root Canal Treatment."
By Elizabeth Dunkleberger DDS PC
June 23, 2017
All eyes were on Boston Celtics point guard Isaiah Thomas in Game 1 of the second-round NBA Playoff series against the Washington Wizards — and not just because he scored a game-high of 33 points! Even more dramatic was the moment his jaw collided with an opponent's elbow, sending one of his front teeth flying out of his mouth and onto the floor.
Press reports said the Celtics' team physician attempted to reinsert the tooth, but it didn't remain in place when Thomas resumed playing the game. Over the next several days, he reportedly underwent a total of ten hours of oral surgery, and was fitted with a four-piece temporary bridge. A statement from the team noted that Thomas suffered "a complete fractured tooth and two other subluxed/shifted teeth… [He] will receive a permanent bridge at a future date." So what does all that mean?
When we say a tooth is fractured, it means the crown (visible part) of the tooth has broken off from its roots, either above or below the gum line. Depending on the severity of the fracture, it is sometimes possible to save the natural tooth by performing a root canal to prevent bacterial infection, and then placing a crown (cap) on the tooth to restore its appearance and function. In more severe cases, however, the tooth can't be saved and must be extracted.
Unfortunately, that isn't Thomas' only problem. He also has two subluxed teeth — that is, teeth that have shifted from their original position, but haven't been knocked out of their sockets. Subluxed teeth often result from a severe blow to the mouth, and may be treated by stabilization or splinting. Team officials haven't said exactly what was done during Thomas' dental treatment, but it could very well have involved extracting the roots of any teeth that couldn't be saved, and possibly placing dental implants in his jaw for future tooth restoration.
A dental implant is a small screw-shaped titanium post that is inserted directly into the bone of the upper or lower jaw in a minor surgical procedure. In time, it becomes fused with the bone itself, offering a sturdy anchorage for replacement teeth. One implant can support one replacement crown; two or more implants can support a number of replacement teeth joined together as a unit. This is called a dental bridge.
Bridges can also be supported by adjacent healthy teeth — but first, the outer surfaces of the crown must be prepared (reduced in size), so that the bridge can be attached over the remaining part of the crown. In many instances, implants are preferred because they do not compromise the structure of healthy teeth nearby.
Dental difficulties didn't end Isaiah Thomas' season — but an earlier hip injury that became aggravated finally did.  As unfortunate as this is, maybe now at least the NBA star will have a chance to let those injured teeth heal, and show up next season with a smile that's as good as new.
If you have questions about treating injured teeth, please contact us or schedule an appointment for a consultation.