My Blog
Posts for: April, 2019
By Elizabeth Dunkleberger DDS PC
April 18, 2019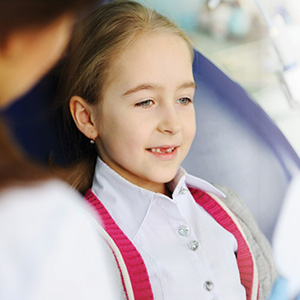 The longer many health problems go on, the worse they become. Treating them as early as possible could stop or slow their development.
That holds true for poor bites: while we can certainly correct them later in life, it's often better to "intercept" the problem during childhood. Interceptive orthodontics attempts to do this with treatments that influence how the jaws and other mouth structures develop during childhood. Many of these techniques are usually best implemented before puberty.
For example, some very complex problems called cross bites can occur if the upper jaw grows too narrowly. We might be able to stop this from happening by using an orthodontic appliance called a palatal expander during the childhood years. It works because the bone at the center of the palate (roof of the mouth) has a gap running back to front until the early teens when the gap closes.
We fit the palatal expander up under and against the palate, then extend out metal arms from a center mechanism to the back of the upper teeth that exert outward pressure on them. This widens the center gap, which the body continually fills with bone as the device gradually exerts more pressure. Over time this causes the jaw to widen and lessens the cross bite. Timing, though, is everything: it's most effective before the gap closes.
Another way to aid jaw growth is a Herbst appliance, a hinged device that alters the movement of the jaws. As a child wears it, a Herbst appliance draws the lower jaw forward to develop more in that direction. Like the palatal expander, it's best used before significant jaw growth occurs.
These are just two examples of techniques and tools that can guide structural growth and prevent bite problems. Because they're most effective in the early years of oral development, your child should undergo an orthodontic evaluation as early as age 6 to see if they need and can benefit from an interceptive treatment.
Interceptive orthodontics can stop or at least slow a growing bite problem. The effort and expense now could save you much more of both later on.
If you would like more information on interceptive orthodontics, please contact us or schedule an appointment for a consultation. You can also learn more about this topic by reading the Dear Doctor magazine article "Interceptive Orthodontics: Timely Intervention can make Treatment Easier."
By Elizabeth Dunkleberger DDS PC
April 08, 2019
The American Academy of Pediatrics and other healthcare organizations recommend breastfeeding as the best means for infant feeding. While bottle feeding can supply the nutrition necessary for a baby's healthy development, breastfeeding also provides emotional benefits for both baby and mother.
But there might be an obstacle in a baby's mouth that prevents them from getting a good seal on the mother's breast nipple—a small band of tissue called a frenum. This term describes any tissue that connects a soft part of the mouth like the upper lip or tongue to a more rigid structure like the gums or the floor of the mouth, respectively.
Although a normal part of anatomy, frenums that are too short, thick or inelastic can restrict a baby's lip or tongue movement and prevent an adequate seal while nursing. The baby may adjust by chewing rather than sucking on the nipple. Besides a painful experience for the mother, the baby may still not receive an adequate flow of breast milk.
Bottle-feeding is an option since it may be easier for a baby with abnormal frenums to negotiate during nursing. But the problem might also be alleviated with a minor surgical procedure to snip the frenum tissue and allow more freedom of movement.
Often performed in the office, we would first numb the frenum and surrounding area with a topical anesthetic, sometimes accompanied by injection into the frenum if it's abnormally thick. After the numbing takes effect, we gently expose the tissue and cut it with either surgical scissors or a laser, the latter of which may involve less bleeding and discomfort. The baby should be able to nurse right away.
If you wait later to undergo the procedure, the baby may already have developed compensation habits while nursing. It may then be necessary for a lactation consultant to help you and your baby "re-learn" normal nursing behavior. It's much easier, therefore, to attempt this procedure earlier rather than later to avoid extensive re-training.
While there's little risk, frenum procedures are still minor surgery. You should, therefore, discuss your options completely with your dental provider. Treating an abnormal frenum, though, could be the best way to realize the full benefits of breastfeeding.
If you would like more information on treating tongue or lip ties, please contact us or schedule an appointment for a consultation.