My Blog
Posts for: October, 2017
By Elizabeth Dunkleberger DDS PC
October 29, 2017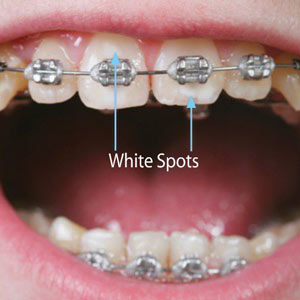 Finally — your braces are off! A look in the mirror reveals a straighter, more attractive smile. Unfortunately, it may also show something not so attractive — tiny, chalky spots on your teeth.
These "white spot lesions" are created by acid remaining too long in contact with the enamel, causing it to lose minerals at those places. The acid comes from plaque (a thin film of bacteria and food particles) that brushing and flossing fail to remove. Snacking on foods and beverages with added sugar or high acid content may also make it worse.
Besides their unattractiveness, these spots can lead to tooth decay — so it's important to try to prevent it. Limiting sugar-added snacks and acidic beverages to mealtimes will help, but the main key to preventing lesions is more thorough brushing and flossing.
Because of the braces, this can take longer to do than if you weren't wearing them. It's also more difficult maneuvering your toothbrush or floss around the orthodontic hardware. You can improve thoroughness and access by using a powered brush or one specially designed for use with braces. And, a water flosser that removes plaque between teeth with a pulsating spray of water is an effective alternative to string floss.
Even if (despite your best efforts) some lesions form, we can still treat them. Resuming normal hygiene practices after braces may take care of it — if not, we can strengthen the affected areas of the enamel with pastes, gels, or other topical fluoride applications. We can also use a technique called caries infiltration that injects tooth-colored resin (often used for cosmetic dentistry) beneath the white spot to harden it, and leave it more translucent in resemblance of normal enamel. If these fail to produce satisfactory results, we can use cosmetic bonding that permanently covers the tooth with resin or veneers.
It's best, though, if you can prevent the lesions while you're wearing braces. Besides daily hygiene, be sure to keep up regular dental visits for teeth cleaning. Your efforts will go a long way toward keeping your newly aligned teeth bright and blemish-free.
If you would like more information on dental care and hygiene while wearing braces, please contact us or schedule an appointment for a consultation. You can also learn more about this topic by reading the Dear Doctor magazine article "White Spots on Teeth during Orthodontic Treatment."
By Elizabeth Dunkleberger DDS PC
October 14, 2017
When you think orthodontics, you may instantly picture braces or clear aligners worn by teenagers or adults. But there's more to orthodontics than correcting fully developed malocclusions (poor bites). It's also possible to intervene and potentially reduce a malocclusion's future severity and cost well beforehand.
Known as interceptive orthodontics, these treatments help guide jaw growth in children while mouth structures are still developing and more pliable. But timing is critical: waiting until late childhood or puberty could be too late.
For example, we can influence an upper jaw developing too narrowly (which can cause erupting teeth to crowd each other) with an expander appliance placed in the roof of the mouth. The expander exerts slight, outward pressure on the upper jaw bones. Because the bones haven't yet fused as they will later, the pressure maintains a gap between them that fills with additional bone that eventually widens the jaw.
Functional appliances like the Herbst appliance influence muscle and bone development in the jaws to eventually reshape and reposition them. The Herbst appliance utilizes a set of metal hinges connected to the top and bottom jaws; when the patient opens and closes their jaws the hinges encourage the lower jaw to move (and eventually grow) forward. If successful, it could help a patient avoid more invasive treatments like tooth extraction or jaw surgery.
Some interceptive objectives are quite simple in comparison like preserving the space created by a prematurely lost primary tooth. If a child loses a primary tooth before the incoming permanent tooth is ready to erupt, the nearby teeth can drift into the empty space. Without enough room, the permanent tooth could erupt out of position. We can hold the space with a simple loop device known as a space maintainer: usually made of acrylic or metal, the device fits between adjacent teeth and prevents them from drifting into the space until the permanent tooth is ready to come in.
Interceptive orthodontics can have a positive impact on your child's jaw development, now and in the future. For these techniques to be effective, though, they must begin early, so be sure your child has a complete orthodontic evaluation beginning around age 7. You may be able to head off future bite problems before they happen.
If you would like more information on orthodontic treatments, please contact us or schedule an appointment for a consultation.